Dressing Appropriately for Business in Asia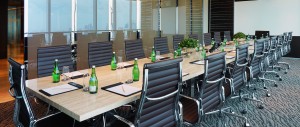 When doing business in Asia, dressing appropriately for business meetings is critical to your success. Wearing the wrong attire can easily break your reputation and damage your credibility. Proper business attire is often a source of confusion in the West, and often each company will have a different attitude about dress codes. For some, "casual Fridays" can mean denim jeans and a smart Polo shirt. For others, jeans are never acceptable no matter how casual they call their Fridays. Or you might work for a company that requires all employees to be dressed in nothing less formal than a suit and tie (for men) or smart and conservative dresses, skirts, or pantsuits (for women).
When doing business in Asia, however, it's a little simpler to decode the dress code. To show respect for your business counterparts, you will never go wrong by dressing formally and conservatively. For men, a suit, shirt, and tie in conservative colours are never amiss. For women, conservative clothing that is modest (hems at or below the knee and higher necklines) and in muted colours is expected. Shoes should be classy, clean, and shined. For women, skip the high heels and wear flats or a tiny kitten heel.
What happens if you show up dressed formally and your Asian counterpart is wearing a buttoned shirt opened at the neck and no tie? Have you overdressed and offended a potential business partner? Not if you are meeting in a country with a very hot and humid climate such as Singapore. You will never be overdressed if you are in formal business attire, but after the initial introduction and exchanging of names and business cards, it is usually acceptable for you to loosen the tie and remove the jacket before your boil to death in your own sweat.
When it comes to packing, here's a summary of what you'll need for business meetings:
Suit jacket and pants in navy blue or black
Conservatively coloured shirt and necktie
Clean, sharp shoes in a dark colour
Conservative skirts, dress pants, or dresses in muted colours
Simple jewellery or accessories
Flats or tiny kitten heels in dark colours
What's great is that you don't need to worry about the confusion of Casual Fridays or Business Casual. Formal and conservative win the day any day.
For times when you must meet in professional offices while doing business in Asian countries, CEO Suites offers a range of professional serviced and virtual office spaces in several Asian countries. Visit our Homepage to view our locations and get more information.
Feb 25, 2015