Commercial space for rent in makati
Experience The Best Commercial Space for rent in Makati
Looking for the ideal office space? CEO SUITE helps you to find elegant workspace in prime cities in the Philippines. We only choose the most prestigious locations in order to create exceptional working environments. Our Commercial space for rent in makati  is designed with the best amenities for organizations of all sizes.
Employees spend more time in their workspace than in their homes. It needs to be as attractive and comfortable as possible in order to attract and retain the best employees. Our office for rent in Makati is designed as a place where projects can be efficiently executed and where employees can feel comfortable, healthy, and part of a group. Special areas are set aside for socializing and forming relationships.
LKG TOWER – MANILA, PHILIPPINES
Our office for lease in Manila consists of 39 fully furnished floors and five zones designed to fulfill the needs of any businessperson while nurturing a friendly environment that helps increase productivity. One of the main factors attracting employees to your company are the amenities that you provide them.
What are the highlights of our office space for rent in Manila?
Our office for rent in Makati will help you attract and keep new talent. A workspace has the power to show employees that they are valued and that the company cares about them. The world-class facilities provided by our team are:
Sea view:  The office for lease in Manila offers an attractive sea view to inspire you and your team, helping you to be at your most creative and productive.
Parking: With practical on-site parking, our office for rent in Manila means that workers can park their vehicles safely and securely.
 Call Center Operator: Your customers will always be able to reach you thanks to the call center operators managing your phone calls. All kinds of technical support will be provided to you by our experts.
Smart Locks: Smart locks ensure extra safety to your company documents, accessible only by authorized persons.
Colocation Rack Space: Our office for rent in Makati is available with colocation rack space so you can utilize and manage your existing infrastructure using our best-in-class data center facilities, removing the cost burden of maintaining your own data canter.
Feng Shui Design & Luxurious Furnishings: Our office space in Manila is fully furnished and designed according to the principles of feng shui to create a high-energy working environment.
Business Lounge: CEO SUITE offers you the perfect place for a professional dialogue with your customers and partners with the Business Lounge at our office space in Manila.
 High-resolution Printing: At the office for lease in Manila, you can enjoy high-resolution printing services so you don't have to waste time searching outside your premises for quality printing.
Housekeeping: We provide extra cleaning care for office space Manila so you don't have to worry about a tidy and professional environment.
High-speed Internet: CEO SUITE offers broadband internet access, with a 24/7 support team to fix any network issues.
IT Infrastructure & Support: Our office for rent in Makati has the infrastructure to modernize business functions and boost profitability.
Building Information
39 levels
17 passenger lifts
Dedicated food court level with local and international cuisine
VIP helipad access
High-tech facilities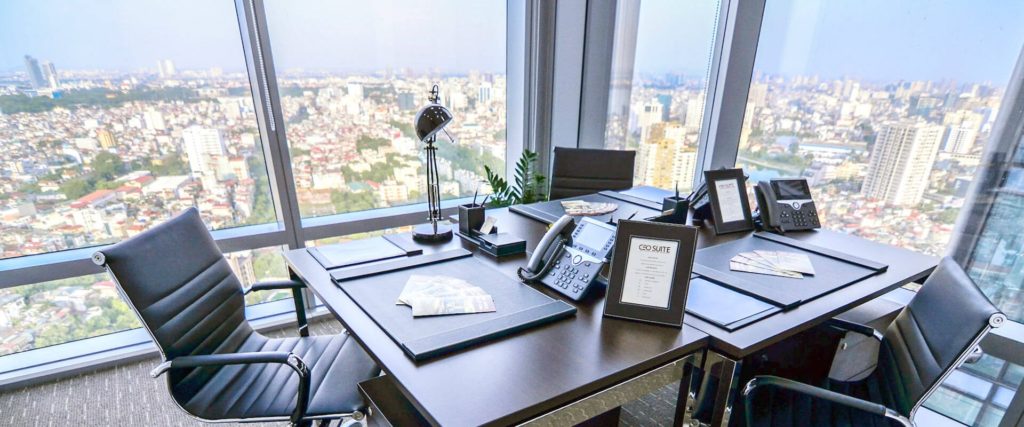 COWORKING DAY PASS
With co-working day passes, our office space for rent in Manila is also available to individuals working independently or collaboratively. CEO SUITE offers a work environment that's ideal for self-employed and freelancers, with 24/7 access, office equipment and amenities. This office space is available on a daily basis to fit any budget.
DEDICATED WORKSTATION
Enjoy a professional and creative atmosphere with the best amenities.  Dedicated workstations are available for you in our office for lease in Manila. Work in a familiar environment each day in a workstation equipped with all the essential facilities.
SERVICED OFFICES
Our office space in Manila consists of serviced offices built into a distinct combination of fully furnished offices with private cabins, shared cabins and meeting rooms. Enjoy full access to reception, printer, back-up power, and security systems. Our experienced and efficient team of experts ensure a happy work environment.
VIRTUAL OFFICES
There are virtual offices at our office space in Manila to suit self-employed entrepreneurs and growing organizations. Through virtual offices, employees can work from any location while enjoying the benefits of a prestigious address and our digital services. Without the overhead cost of a physical office, you can more quickly grow and develop your brand.
MEETING ROOMS
CEO SUITE offers fully equipped meeting rooms for conducting your company gatherings. Without any obligation, users only pay for the time spent using the space. At our office space for rent in Manila, our experts take care of everything so you can focus on your meeting.
Since our office space in Manila is situated in a prime location, it is easily accessible by your visitors. Our meeting rooms come with a projector, whiteboard, stationery, and video conferencing facilities. They are designed to comfortably host interviews, training sessions, workshops, seminars and meetings of all types.
VIDEO CONFERENCING
Video conferencing is becoming increasingly important in the current business climate where clients are more likely to be located in different parts of the world.  At the office for lease in Manila, video conferencing can connect your team to anywhere in the world. Our world-class facilities provide you with an effortless experience, and our team are available to assist you with any technical issues.
Why choose CEO SUITE's Commercial Space for rent in Makati?
CEO SUITE is the go-to organization for all things office space-related in the Philippines. We offer you everything you need to set up a virtual office in prime cities in the Philippines.  Our office for lease in Manila is available with virtual office options and world-class facilities to enhance your business.
Your needs, our targets: We conduct research to fully understand your physical and digital needs so we can provide you with the facilities to succeed.
Perfect match to build your brand:  Our experience in providing the best virtual office space to our customers makes us unique in the industry.  We are here to provide you the right environment in which to grow your brand.
Plan your office: We provide world-class facilities with unique features.  Our office space for rent in Manila is easily accessible and available to suit your budget. The infrastructure and amenities are a perfect blend for your business to grow. Discussions about the contract period can be easily managed by our team of legal experts.
What makes CEO SUITE unique?
CEO SUITE provides you with world-class facilities to make your virtual office run freely. You get to enjoy professional telephone answering support as well as business deal and service support from our trained team of experts.
Jul 19, 2019