How Coworking Offices Build Your Credibility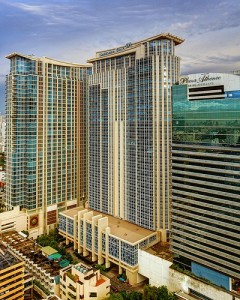 Do you travel for a large part of the month meeting with clients? Do you work from a home office? There are several challenges that working away from a traditional office can create, and one of the biggest obstacles is establishing credibility. If you are an entrepreneur, you don't want to look like a college student checking email at a coffee shop, but that's the risk professionals take when they don't have an office space.
Even in today's mobile workplace, the lack of a physical company address or a reliable conference room can take its toll on your professionalism. Many companies won't pay a freelancer who works from home the same fees they'd pay an established agency with a sleek conference room, even if the freelancer does better work and provides better service than they'd get from an agency. This is one example of how not having a physical address for your startup or small agency can really affect the perceived value you can offer your clients. This in turn means that you can't earn as much, or go after larger clients, which in turn limits your company's growth.
For many professionals and entrepreneurs working remotely, the answer to this dilemma is the shared office. Many people in large cities are choosing to rent shared office space to bridge the gap between the home office and the professionalism of a traditional work environment. That way, if you do meet a potential new client at the coffee shop, you can hand them a business card and meet them in your office conference room. When it comes time to discuss rates, you'll feel more confident charging what you're worth in a traditional business environment.
Here are some of the benefits you can enjoy by renting a shared office space.
Great location — office space in prime areas where you couldn't normally afford to rent an office
Cost savings — you pay only a fraction of the cost you'd pay if you were the only person renting the office space
Convenience — the office is available when you need it, with available desks day or night
Flexibility — you can rent it one day a month or for several days or weeks at a time, or keep it as a business address for several years but only use it occasionally
High speed Internet access – instant connection
Onsite photocopy and network printing services
Secretarial assistance, chargeable in 10 minute blocks
Coffee break room
Professional meeting facilities — available for half-hourly booking
Phone answering and guest handling by our receptionists
Networking opportunities with other entrepreneurs who also work in similar ways as you do
When you rent a coworking office, you have a regular office address. You don't need to rent the office every day; in fact many people prefer to use it as a conference meeting place and they continue to work from home or on the road most of the time. When you rent a shared office space at CEO SUITE, you'll also find a community where you can meet with other entrepreneurs. Some people come into a coworking office every day just to enjoy the synergy that working around people creates.
If you'd like to learn about how CEO SUITE can become your next office space, please contact us to learn more.
Jan 09, 2015