CEO SUITE Beijing LG Twin Towers Hosts the "Art Show of Armenia" on October 20, 2016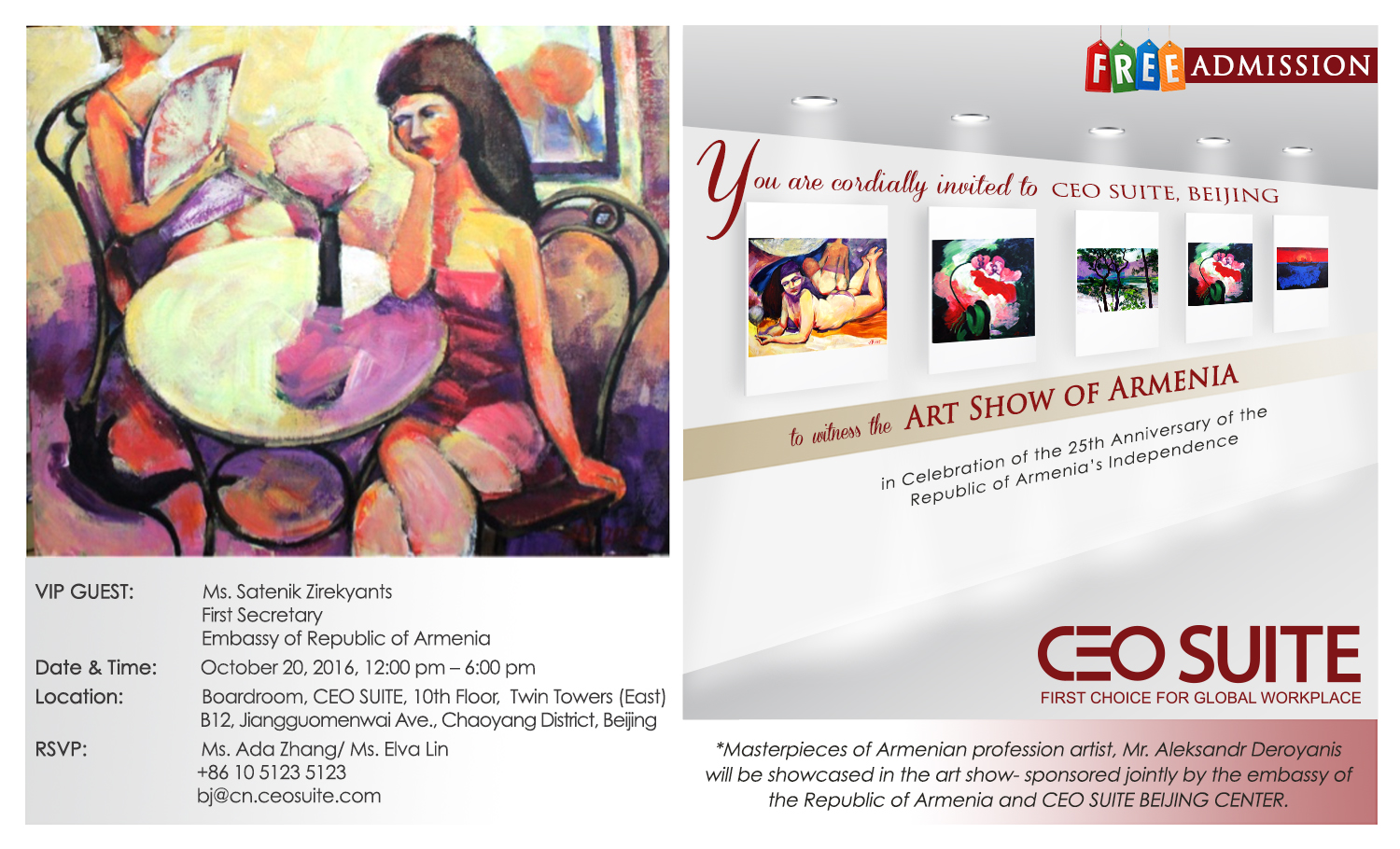 Leading premium serviced office provider in Asia, CEO SUITE, together with the Embassy of the Republic of Armenia in Beijing, is hosting their first art exhibit called, "Art Show of Armenia", on October 20, 2016 at the luxurious CEO SUITE business centre located on the 10th level of the East Tower of the iconic LG Twin Towers on Jianguomenwai Avenue in Beijing, China. The event will be open from 12:00 noon until 6:00 in the evening that day and is open to the public – "admission is free", just send your R.S.V.P. to [email protected].
This special art exhibit marks the celebration of the 25th anniversary of the independence of the Republic of Armenia. The famous works of renowned Armenian artist, Mr. Aleksandr Deroyanis, will be on display at the CEO SUITE LG Twin Towers Business Center – Boardroom.
Aleksandr Deroyanis is an Armenian professional artist, born in 1962 Armenia, Yerevan. He graduated from the Institute of Fine Arts, majoring in Fine Arts and Design. Mr. Deroyan is a member of the Designers' Union of the Republic of Armenia. The Artist's exhibitions have been housed in various Galleries and Institutions, as well as several academic Universities in Armenia, Syria, France, Cyprus, Austria, as well as in China.
The Artist has a long track record of creating original pieces of art work, through a combination of color, texture and symbolism by focusing on the sensual nature of Art. Primarily works in oil paint on canvas as well as in water colors. His landscapes, portraits and abstract pieces of work show us a new way of looking at the ordinary objects around us. Aleksandr's most recent works involve the creation of unique explorations into systems of color.
Lately, with the support of the Embassy of Armenia, Aleksandra Deroyan has participated in several exhibitions where he presented artworks combining the rich Armenian Art traditions and landscapes with Chinese themes.
The honorable, Ms. Satenik Zirekyants, First Secretary of the Embassy of the Republic of Armenia, will be there to formally open the event together with the CEO SUITE Beijing team.
Sep 22, 2016