Why Your Business Needs Managed Office Solutions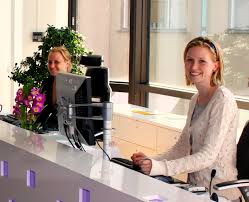 Managed office solutions are ideal for nearly any business, any size. These solutions can be customised, so you can choose the right level of support to fit your business needs. Professionals who travel often, don't require a physical office, and/or work primarily from home can find the business support they need to progress in their industry. Along with enjoying helpful office solutions, your business can also benefit from a prestigious business address, mailing address, and local telephone number, to help immediately establish your presence in a landmark location.
Increased Productivity
With managed office solutions, you can take advantage of a receptionist, who can serve as a friendly voice on the phone for your clients. The helpful, multilingual receptionists can easily communicate with your clients, even in a new marketplace. They can also provide package and mail handling assistance, so you'll never have to worry about another missed package or mail handling error again. You won't have to worry about these time-consuming tasks any longer, which can help increase productivity and allow you to focus more on your clients and your business.
A Fraction of the Cost
By taking advantage of a virtual office and managed office solutions, your business can enjoy many of the benefits of a traditional office, without having to pay for an office. Your business can benefit from a professional image and one-stop support at a fraction of the cost. Everything you need will be available at one price, on one invoice.
IT Support
When you're facing an IT problem, it is highly beneficial to have managed office solutions on your side. You can have a trusted IT professional on call in the event that there is a data disaster, office mishap, or other reason you need data recovery. They can have you back up and running in no time, so that your business is minimally affected by the IT issue or computer failure.
Video Teleconferencing Solutions
As you are expanding into untapped markets, it is important to have access to technological solutions that can quickly connect you to the rest of the world. You can take advantage of video teleconferencing solutions at any time and have a face-to-face meeting with clients from anywhere around the world.
Take Advantage of Office Spaces At a Discount
If you need a private office, conference room, or meeting room for a day, week, or month, you can take advantage of them whenever you need – at a discounted cost. This can help you make a great first impression on your clients and provide the ideal meeting place for anything from a private interview or team meeting to an initial client meeting.
Get the Support You Need Now
Why spend money on an office you don't really need? You can get comprehensive office support, impress your clients before ever even meeting them, eliminate frustrating office tasks (such as phone and mail handling), and save money at the same time. Contact CEO SUITE for more information on why managed office solutions may be right for your business needs.
Dec 26, 2014