6 Benefits of a Virtual Office in Asia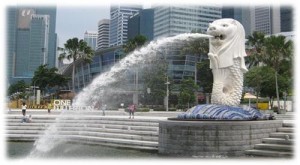 Would you enjoy working from home or working on the road, and receiving the benefits of a prestigious office address and low overhead business costs? A virtual office might be right for you.
When you rent a virtual office, you can work from anywhere and present a professional image. You'll have a grade-A business address, mail forwarding, business support, clerical services, Internet service, and many other amenities to choose from. A virtual office is a good choice if you want to remain working at home, but you want a prestigious business address and access to conference rooms.
On Demand Conference Rooms — If you need to meet with a client, you can reserve a 5-star conference meeting room at your virtual office and conduct your business deals in a prestigious setting. Your client will never know that it's a virtual office. Receptionists are trained to greet guests and direct them to you as if you were the sole proprieter.
Impressive Business Address — You can pass out business cards with confidence knowing that you will be seen as a true professional. Your clients will never need to know that you work from home, or you travel frequently and save the overhead of maintaining a traditional office space.
Fast and Easy Setup — At CEO Suite, you can secure your virtual office space in five minutes and immediately print out business cards that day. Every day, we help new business owners get started and large international companies expand to new locations.
Multilingual answering services — Phone calls from your clients and customers will be answered in a friendly, professional manner in five languages.
Networking events with other professionals — There are many business owners you can meet and learn from at networking events you will be invited to. You can expand your business contacts and learn what businesses are thriving in your area.
Business lounge access 24 hours a day at your virtual office location. Here, you'll have access to Wi-Fi Internet and a place to relax or work with other business professionals.
Companies opening new offices around the world often start with a virtual office because it is an affordable way to establish credibility in a new country or location. Startups also get an excellent head start with a virtual office.
There are many benefits of a virtual office in Asia. They offer flexible arrangements and there are many options and levels of service to choose from, from getting a prestigious mailing address to white glove treatment that includes secretarial support and catering services for meetings and events. You can start out with a basic plan and upgrade as your business needs grow, or start out with the highest level of service.
The key benefits of virtual offices are that they're a convenient, flexible service and having a virtual office gives you instant credibility in today's competitive business market. Contact CEO SUITE about which virtual office package is right for your business.
Jan 16, 2015