Pursuing the Indonesian Dream
What is a Korean woman doing, living and working in Indonesia? Ordinarily, when Korean women come to Indonesia, it is almost always as dependent spouse, whose husband may be working in one of the 1,800 Korean companies operating in Indonesia.
There are currently about 60,000 Koreans in Indonesia, arguably the largest number of people in a foreign community. But unlike many of her compatriots, Mee Kim has made her mark as she never could have done back in her home country. "Because I am a woman, I was never given the opportunity to develop on my own over there," she told Tempo.
Her home is now Indonesia, which is also the base for her multi-national company, CEO SUITE GROUP, providing office space and services to 2,000 international companies in Jakarta, Singapore, Kuala Lumpur, Bangkok, Manila, Beijing, Shanghai and Seoul.
Kim took time off to be interviewed by Tempo contributor, Seulki Lee, to
whom she shared her trials and tribulations to get where she is now.
Excerpts:
What made you come to Indonesia in the first place?
Twenty four years ago, I was in Australia to work for the Australian company after I completed my Masters degree in Sydney. They assigned me to run their office in Bangkok, as a Country Manager. After 2 years, they sent me to Jakarta to open up the new branch here. Jakarta then was bubbling and I fell in love with its energy and the people in spite of the traffic and the pollution. The business was very successful and we had potential clients lining up. Foreign investors were pouring into the country, and they needed temporary office space along with the administrative support. In 1997, I left the company to set up my own Serviced Office at the Indonesia Stock Exchange Tower2.
How, as a Korean woman, did you have the courage to travel and work outside of Korea?
In Korea, back in 1985, advertising for job openings specified that the candidate should have completed military service. That meant only men were qualified. The job openings for women in Korean firms were very limited to secretarial positions or professionals such as lawyers, medical doctors. So, after I graduated from a university in Seoul, I had no other choice but working for a foreign company or bank. Citibank was my first job. Every day was a night mare, and I was the worst performer in my department because I was not a number person. My boss even tried to match me with someone, so I would get married and quit quietly.
In 1998, it was very difficult to get a passport in Korea if you wanted to go overseas. At that time people hardly knew about Australia and there were very few Korean students in Australia. But they offered lots of part time job opportunities and allowed the graduatse to apply for the permanent residence. I could support myself without burdening my parents. So I quit Citibank and applied for master course in Sydney. But I had to do it quietly, because my father is from Busan where people are very traditional. He would never allow me to go overseas and live alone. I only told my mother and did all the preparations on my own. I left in the middle of the night. That is how my journey started.
How did you first get into this 'office service' business?
When I was in Sydney, I worked as a part time interpreter, but the income was not enough, so I rented one-room unit, and fitted it out with second hand furniture from the Salvation Army. I sub-leased the only bedroom to my Thai friend and I stayed in the living room with a sofa-bed. I cleaned the unit, cooked for her and she paid me the monthly fee. It covered living expenses and the rent. That's how I survived. It was like my first business start up.
When I finished the study, the job situation was not any better. I sent hundreds of CV's, and managed to get a job in a medium sized Australia firm providing Serviced Office business which was known to few people. But it fascinated me instantly. Somehow it was very similar to how I rented my apartment and serviced my friend.
I heard your company, CEO SUITE is growing 30-40 percent every year. How did it start?
It required pretty big capital in order to win over my previous Australian company and other competitors. I had to use all my savings and got the loan out of my husband's house and my father's apartment. Our first center was open at the Indonesia Stock Exchange tower2. There was a Korean businessman who opened up the biggest Korean restaurant in the same building, nearly the same size of 1,500 square meters of space. Many Koreans living in Jakarta betted on who would go bankrupt first between him and myself. A month later, the IMF kicked off the biggest Asian crisis. Lots of foreign investors evacuated. The whole of my bank loan was in US dollars, which fluctuated 20 times from the initial value. The Korean restaurant went bankrupt within a year. I got pregnant and the whole country was in mass. Riots, fires, raping and reformation. It was like a war zone, and most of foreign investors ran away including my previous company.
But, the crisis became an opportunity for me. Out of desperation, I had the idea to manage those foreign clients who were too scared to stay in Jakarta. We offered them a one-stop support services in addition to existing facilities such as serviced offices, internet, meeting rooms. They could sit in their head office comfortably and whatever they wanted, one email or a call to us was enough.
We filed the tax reports for them, handled their clients, attended whatever meeting they need to, managed their staff, processed their payroll, anything that needed to keep their Indonesia business going. They usually came about once a month, checked things out, and then went back. There was a huge demand at that time, and I made good business. In less than two years after opening our 1st center, we opened the second branch (at Wisma GKBI). We just opened our 14th center at the AXA Mega Kuningan City. The other centers are located in 7 other Asian cities such as Singapore, Kuala Lumpur, Bangkok, Manila, Shanghai, Beijing and Seoul. We have been growing fast and mostly serving multi-national companies. We are the only Serviced Office Group with a team of women professional who are experts in this industry, chalking up 10 to 20 years of experiences.
So, 90 percent of CEO SUITE's employees are women. Is there a limitation in hiring women?
Admit the reality: The men are empowered, they are in charge. If I were them, I wouldn't give women a chance. I would maintain my power in the game. If each of us (women) helps each other, eventually it will happen. And it's already happening in Korea. Back then, the challenge for women was how to balance marriage, our parenting role and our careers.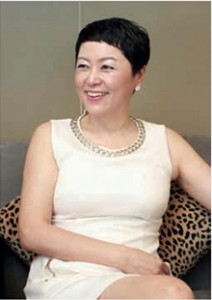 Can you name three women executives in Indonesia who have impressed you?
Shinta Kamdani (Sintesa Group's managing director), who is very active politically in addition to her business. I described her as a superwoman. She does a lot of CSR work. We work on the Angel Fund together, helping Indonesian women to run small businesses by giving them training and funding. Then there's Svida Alisjahbanana, who heads the Femina Group of publications. She is a wonderful mother, wife and is a great businesswoman. There is also Noni, the vice president of the Blue Bird Group. In Indonesia, there are many superwoman. I still don't know how they can do what they do. I think Indonesian women are very lucky, because we still get a lot of domestic help, while in America or in Korea, women have to take care of everything. Everybody asks me, where I will go next, and I answer Indonesia. In the old days, people sought for the American dream. For me it's the Indonesian dream. Many Koreans, myself included, have managed to make big things possible here. It could not have happened in any other place.
Oct 22, 2013