ASIA LOCATION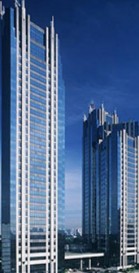 The center of commerce and distribution of Indonesia
CEO SUITE, Jakarta
CEO SUITE | Indonesia Stock Exchange Tower 2
Indonesia Stock Exchange Tower 2, 17th Floor, Jl. Jend. Sudirman Kav. 52-53 Jakarta 12190 Indonesia

| | |
| --- | --- |
| T | +62 (21) 515 7777 |
| F | +62 (21) 515 7799 |
| E | sales@ceosuite.com |
CEO SUITE serviced office and business center (Indonesia Stock Exchange, Jakarta) is located in the heart of the central business district and occupies 14,000 square feet of office space on the 17th floor of the Indonesia Stock Exchange Tower, a landmark financial hub that gives the best strategic advantage for key business destinations.
The airport toll road is minutes away and the Indonesia Stock Exchange Tower is approachable from all major arteries in the center of Jakarta. With advantages from its strategic location, optimum accessibility and with the Tower adorning one of the best in international architectural designs, the Indonesian Stock Exchange Tower enjoys unrivalled prestige and recognition by both the local and international business communities.
The Tower houses a growing number of multinational companies and international banks such as Bank of America, Cathay Pacific, CNOOC, Ernst & Young, ING Securities Indonesia, LG International, Macquarie Securities, Merrill Lynch, Microsoft Indonesia, Nike Indonesia, Royal Bank of Scotland, Samsung, SK Telecom and World Bank.
Information and Facilities
Building Information

32-storeys
138,000 sq meters (total net area)
1,500 parking spaces
46 passenger lifts

Building Amenities

International banks
Assortment of fusion and Asian restaurants
Fitness center
Medical facilities
Places of Interests