Serviced Offices in Dubai Now Available with CEO SUITE's New Partnership with myOffice Business Centre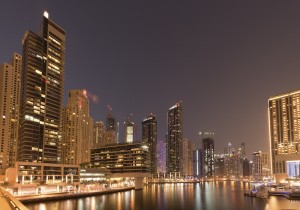 May 15, 2015 – CEO SUITE has just established a partnership with a serviced office provider in the Middle East, myOffice Business Centre. This allows CEO SUITE clients to access premiere serviced offices in Dubai, United Arab Emirates. Located in the central business districts of Dubai, these prestigious offices offer companies of all sizes the benefit of luxuriously appointed office space, as well as company registration, legal services, business services, and flexible office arrangements. The serviced office options are located in a highly desirable spot for the world's market leaders, in the central business districts of Dubai, close to the city's major landmarks.
Designed to be a one-stop source for setting up business in the UAE, these offices offered through CEO SUITE enable market leaders to connect with other companies in the Middle East. There are four locations in Dubai; at each of these Dubai locations, there are translation and business set up services offered to streamline the process of establishing a new business or branch office in UAE.
Benefits of our partnership include:
Located in Dubai, a world business hub with longstanding importance in commerce and trade, with the added commercial benefits of tax free and low tax zones
Four prestigious locations in Dubai, including prestigious office space in the newly constructed Business Bay area of Dubai, set to be "the" modern business district in UAE (UAE's affluent business, arts, and residential area, modeled after Manhattan)
Move into a beautifully-appointed, fully furnished office space in UAE with a full suite of amenities
Flexible office arrangements
Onsite business set up solutions and consultants
Variety of office spaces available suitable for all companies, from start-ups to established corporations
Company Set Up in Dubai
Our Dubai team of Company Formation Specialists is ready to assist companies of all sizes and expatriates wishing to set up a company in Dubai.
You can start a new company or expand operations of your existing company into Dubai in high style in your new serviced office with new CEO SUITE partner myOffice Business Centre.
Company set-up services at the Dubai locations include:
Free business registration and set-up consultancy services
Dubai commercial and professional licenses
Sponsorship and full PRO facilitation services
All residency and visit visa services for expatriates
Assistance and guidance for special approvals
Translation and attestation services
Free zone licenses
EJARI processing (for serviced offices)
Tenancy agreements (for serviced offices)
If you are interested in leasing flexible office space in Dubai through myOffice Business Centre, please inquire today to reserve your new office in UAE.
May 15, 2015